MILLENNIUM FALCON


Source: Return of the Jedi

Year: 2009
(Costco Exclusive)

Assortment: Galactic Heroes

Retail: $27.99

Assortment Number: 92761

UPC Number: 6 53569 43126 8

Weapons and Accessories:
3 Landing Struts
Sound Effects
Phrases
Rotating Radar Dish
Moving Laser Cannons
Opening Canopy
Opening Rear Lid
Opening Entry Ramp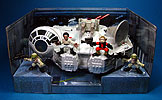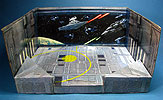 Comments: Calling all Jedi and Sith Lords! Wookiees and Ewoks! Droids and Jawas! The Star Wars Galactic Heroes figures have arrived in a galaxy near you!
Grab your lightsaber, fire up your starfighter engines, and blast into hyperdrive fun wityh the greatest Galactic Heroes of all time!

Points of Interest:
Photography by Dan Curto

Back To Galactic Heroes