STORMTROOPER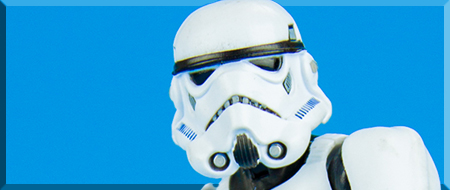 A New Hope
Stormtroopers board the Rebel Blockade Runner Tantive IV and send word to Darth Vader that they have captured Princess Leia. "Inform Lord Vader we have a prisoner."
The third wave in The Black Series 6-inch action figure collection (or, as per the shipping box, the first wave of the 2014 collection), which began shipping in March 2014, included the brand-new figures including the #09 Stormtrooper, #10 Obi-Wan Kenobi as he appeared in Revenge Of The Sith, and #11 Luke Skywalker in his Rebel Fatigues from The Empire Strikes Back along with a repack of the #08 Han Solo from the previous assortment.
Featuring 24 points of articulation, two Imperial issue weapons, and a functional holster, the #09 Stormtrooper is packed full of fun! If there was ever a figure that you need more than one of, this is it!

Product Information
Manufacturer:
Hasbro
Year:
2014
Original Retail:
$19.99
Assortment Number:
A5626/A4301
UPC Number:
6 53569 89823 8
What's In The Box?
Stormtrooper Action Figure
BlasTech DLT-20A Blaster Rifle
BlasTech E-11 Blaster
About This Figure
The #09 Stormtrooper reuses most of the parts originally used for the #03 Sandtrooper figure from the first wave.
Text & Photography by D. Martin Myatt
Page Built by Adam Lamping