DESTROYER DROID


Source:
The Phantom Menace

Year: 2007

Assortment: Saga Legends

Retail: $6.99

Assortment Number: 87428/85770

UPC Number: 6 53569 24854 5

Weapons and Accessories:
2 Missiles
Episode I Collector Coin
Model: Droideka manufactured by Colicoids
Status: Designed for annihilation
Weapon of Choice: Laser cannons
Characteristic: Protected by built-in deflector shields
Comments: Droidekas, commonly known as destroyer droids, are designed for one purpose only: the complete annihilation of their targets. Slow and awkward in their three-legged mode, they can change into a disk shape for speedy attacks with their twin blasters.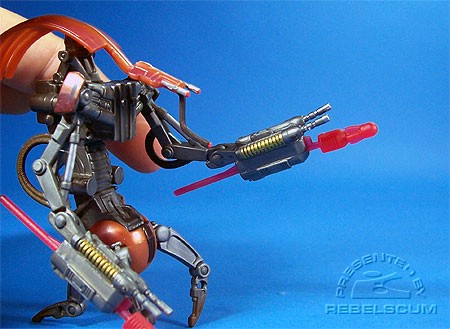 Roll over the image above to watch the Destroyer fire its missile!


Wacth the Destroyer Droid's action feature!


Points of Interest:
Destroyer Droid is a repack of 2005's ROTS Destroyer Droid III-44, which was based on the original 2002's SAGA Destroyer Droid (Geonosis Battle).
Photography by Dan Curto

Back To Saga Legends