Rebelscum's 2001 Costume Contest!
Welcome to Rebelscum's 2001 Halloween Costume Contest! Here we've posted your Halloween costume creations for all to view, and give away some great prizes to the cream of the crop. Be sure to check out last year's Costume Contest page for even more fantastic costumes...
Rules: Starting on Moday October 15th we will begin accepting and posting costume picture entries here on this page. We will continue to accept picture entries until November 5th. Then sometime in the week following we will announce our winners! All costumes must be Star Wars themed and in good taste. To enter your costume in this year's contest please email your photos to dustin@rebelscum.com . All entries must be in JPG file format. Thanks and good luck!
Here are this year's winnners!

1st Place
Shea Foley

2nd Place
Kiefer Bohach

3rd Place
Eric & Mike

1st Place
"Baby Yoda"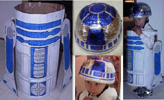 2nd Place
R2-D2
Below are all of this years entries. Check them all out!
Tony Colucci as Weequay
Lydia as Queen Amidala

Larry & Greg as Darth Maul & Obi Wan
Glenn Cruz as Boba Fett
Adam Bauer as Darth Maul

Graeme Ring as Boba Fett

Dennis Lambert & Nephew as Qui Gon & Obi Wan

Drew as X-wing Luke & Qui Gon
J. Scheuer as a Jedi Knight
Briar Bohach as Mini - Troopers
Kiefer Bohach as a female Stormtrooper
Richard Valenzuela as a Jedi Knight
Rob Schneider's son as Jedi Baby
Ryan Shaw & brother as Jawas

George Eckert as Obi Wan
Brent McCracken as Obi-Wan BRENTobi

Amy Swart & Rico Belluomini as The Emperor & Darth Maul
Bill Randall as Jedi Knight

Wayne Highland as Obi-Wayne
Abel Pinedo as "Maul Security"

Spencer Brown as Jedi Knight

Cassy Reyes as Sabe & Amidala
Tracy Charlton as Jango Fett
Shea Foley as Boba Fett Action Figure
Paul as R2-D2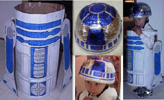 Joey as a Jawa
Rob & Zoe As Queen Amidala & Obi Wan
Geoff Richards as Jedi Knight
Darren Wright as Stormtrooper
Kevin Roberts as Darth Vader

Thomas G. Atkinson as Xix Crandor, Trymaxian Jedi Knight
Harry Portman as Quinlan Vos, Jedi Knight
Sheila as one of the Tonikka Twins

Eric and Mike as Ponda Baba and Dr. Evazan

Eric as a Clone Trooper from Episode 2

"Spat" & his friend Rob as Snowtrooper and his Mini Snowtrooper

The Brooks Family as Darth Vader, Yoda & Endor Leia
Christian as Chewbacca

Dan Wendt as Boba Fett

Zoe as Ewok Warrior

Patrick, Donna, and Devlin as Jedi Knights

David Jackson as Boba Fett

Mike Bivins as Stormtrooper